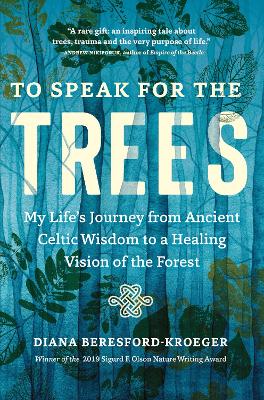 To speak for the Trees
My Life's Journey from Ancient Celtic Wisdom to a Healing Vision of the Forest 
Diana Beresford-Kroeger 2021
Diana Beresford-Kroeger - a world-recognised botanist and medical biochemist - has revolutionised our understanding of the natural world with her startling insights into the hidden life of trees. In this riveting memoir, she uncovers the roots of her discoveries in her extraordinary childhood in Ireland. Soon after, her brilliant mind bloomed into an illustrious scientific career that melds the intricacies of the natural world with the truths of traditional Celtic wisdom. To Speak for the Trees uniquely blends the story of Beresford-Kroeger's incredible life and her outstanding achievement as a scientist. It elegantly shows us how forests can not only heal us as people but can also help save the planet.
AUTHOR: Diana Beresford-Kroeger is a world-recognized botanist, medical biochemist, and author, whose work uniquely combines western scientific knowledge and the traditional concepts of the ancient world. Her books include The Sweetness of a Simple Life, The Global Forest, Arboretum Borealis, Arboretum America, Time Will Tell, and A Garden for Life. Currently she is advocating on behalf of an ambitious global bioplan that encourages ordinary people to develop a new relationship with nature and to restore the global forest. Amazon
Check here for zoom interview with Bill Steer April 2022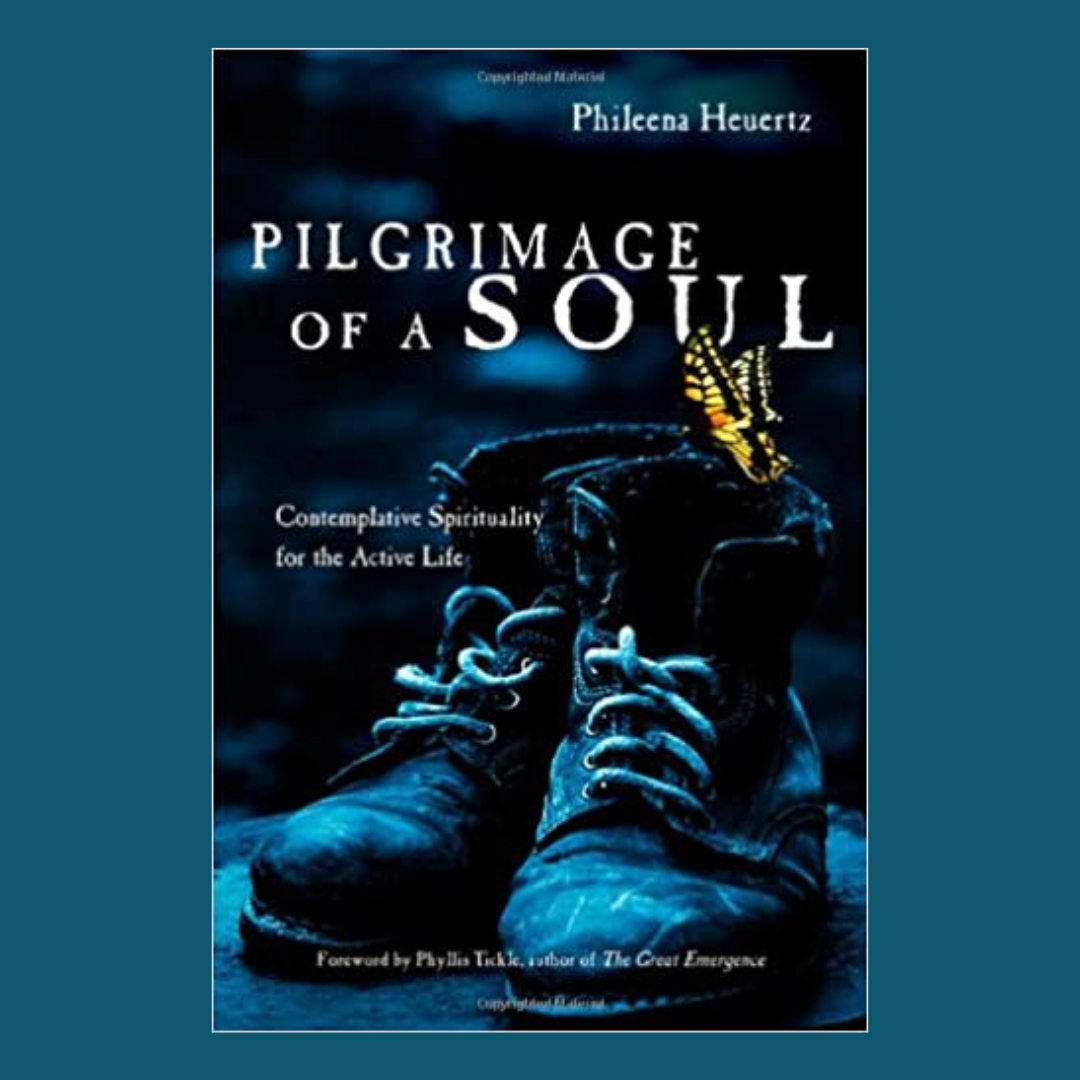 Pilgrimage of a Soul
Contemplative Spirituality for the Active Life
Phileena Heuertz - 2017
You can only go so far for so long before you find the limits of yourself. For Phileena Heuertz that moment arrived, mercifully, around the same time as a sabbatical to mark her twelfth year of service with an international organization working with some of the most vulnerable people in the world.
Activists often see contemplation as a luxury, the sort of thing necessarily set aside in the quest to see the world set aright. But in Pilgrimage of a Soul we see that contemplation is essential-not only to a life of sustained commitment to the justice and righteousness of God, but to the fully human life that the Holy Spirit beckons each of us to. 
Tracing seven movements from a kind of sleepfulness to a kind of wakefulness, Phileena shows us that life is a journey that repeats itself as Christ leads us deeper and deeper into our true selves and a truer knowledge of God. This revised edition includes practices with each chapter, as well as questions for group discussion and individual reflection.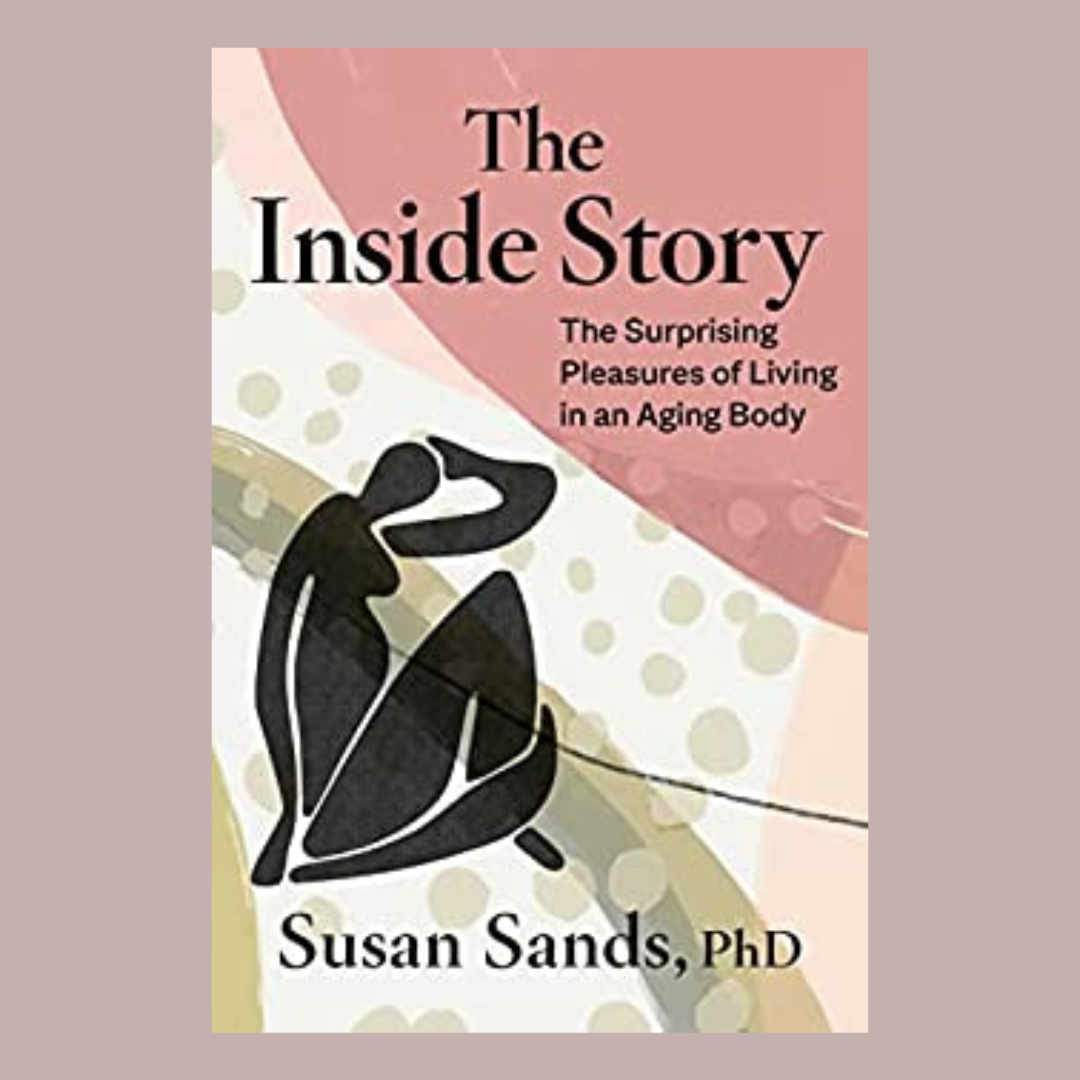 The Inside Story
The Surprising Pleasures of Living in an Aging Body
By Susan Sands
Embodiment tools for loving your maturing self.
Susan Sands is a clinical psychologist who uses Buddhist meditative practices and yoga with her patients and in her writing. Her focus in The Inside Story is body image and how distorted our focus can become on what others see, rather than what we sense and feel as authentically ourselves.
This message is important for every human being from about the age of five on. Sands aims specifically at adult bodies that are experiencing signs of aging: people 55 to 75 mostly. She fuels her pages with conversations she has had with interview subjects, and she recounts others' stories with frequency.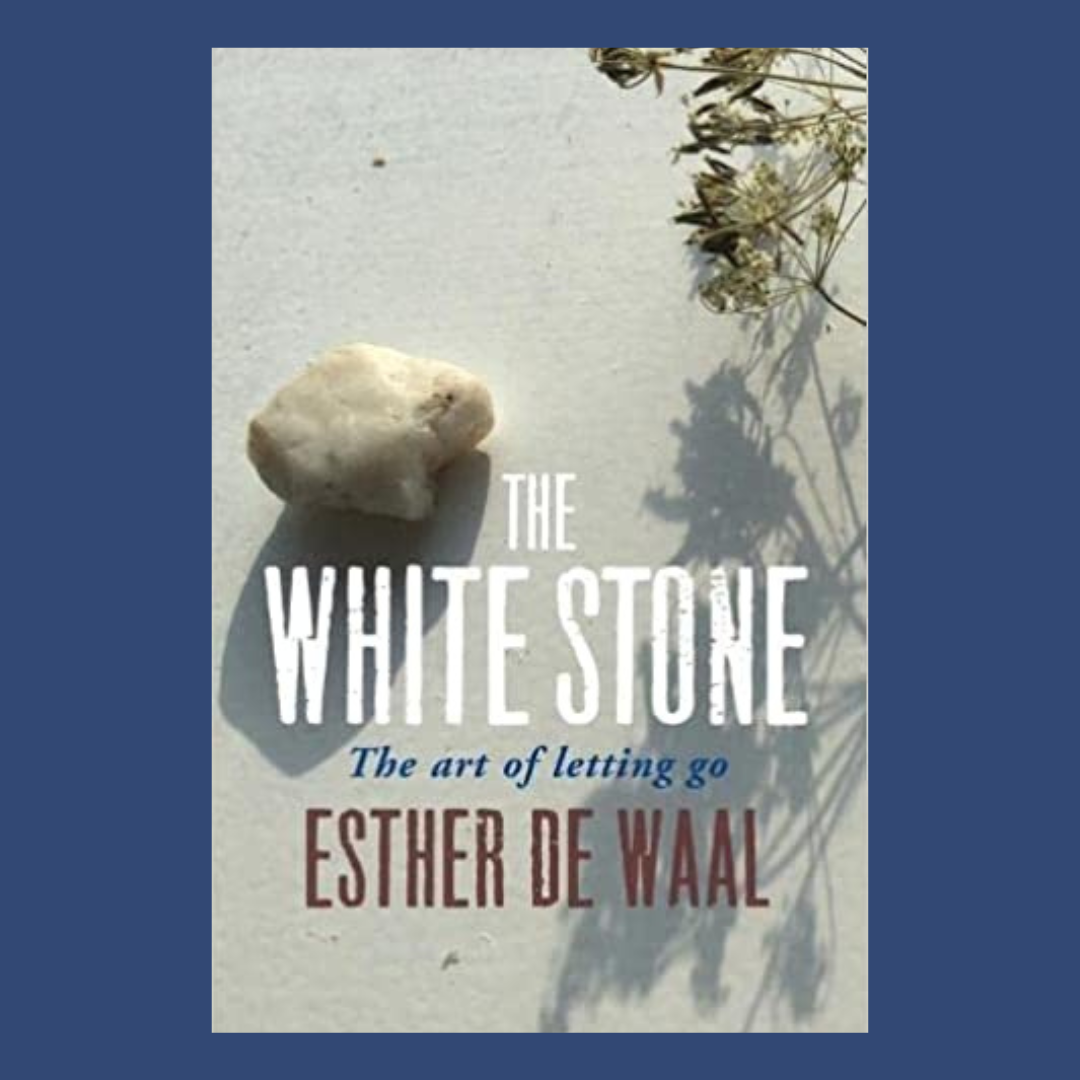 The White Stone
The art of letting go
Esther De Waal 2021
Esther de Waal is one of today's most beloved spiritual writers. In The White Stone, she reflects on the changes and losses that come with growing older. Esther reflects on solitude and, following a period of illness, saying goodbye to a family home and the Welsh border landscape she had known for decades which inspired some of her greatest writing, and adjusting to a new city environment.
In her characteristic style, she sees everything as a portal into a deeper spiritual understanding. She draws on the wealth of the Christian tradition, especially scripture and the monastic and Celtic spiritualities she knows so well, to help her navigate her way through not only the inevitable sense of loss that accompanies such change, but also to embrace the new possibilities it brings. The white stone of the title refers to a small pebble from the river that ran through her garden that she keeps in her pocket, but also strikes a note of hope referring to the new identity promised by God (Revelation 2.17).
This is a book of simple, profound wisdom that will speak to many coping with change in their own lives.
Further Recommended Reading
'Gilead' - Marilyann Robinson
'Sacred Living' – Practical inspirations from Celtic Spirituality for the
Contemporary Spirituality Journey by Grace Cluny
Publisher: Columba Press (March 1, 2011) Publication Date: April 26, 2012
'Cave Refectory Road' Monastic Rhythms for Contemporary
Living by Ian Adams: Publisher: Canterbury Press Norwich; Publication Date: 1 edition (30 Sept.
2010)
 'Embracing Solitude: Women and New Monasticism' by Bernadette Flanagan
& Beverly Lanzetta Publisher: Cascade Books, an Imprint of Wipf and Stock
Publishers (11 Nov. 2013)
'My Stroke of Insight' by Jill Bolte Taylor Publisher: Hodder Paperbacks (19 Mar. 2009)
 'Teresa of Avila: The Book of My Life' by Mirabai Starr Publisher: Shambhala
Publications Inc (1 Aug. 2008)
 'The Elephant in the Church: A Woman's Tract for our Times' by Mary T
Malone Publisher: Columba Press (28 Sept. 2014)  * Revised edition – Forward Mary McAleese 2019
 'Merton's Palace of Nowhere' by Dr. James Finley Publisher: Ave Maria Press;
Anniversary edition (1 Aug. 2003)
'Intimacy with God: An Introduction to Centering Prayer' by Thomas Keating
OSCO Publisher: Crossroad Publishing Company; Revised edition (1 Sept. 2009)
 'The New Monasticism: A Manifesto for Contemplative Living' by Rory
McEntee & Adam Bucko Publisher: Orbis Books (10 April 2015)
 'Etty Hillesum: A Life Transformed' by Patrick Woodhouse
Publisher: Continuum (26 Jan. 2009)
'Dakota: A Spiritual Geography' by Kathleen Norris
Publisher: Houghton Mifflin (Trade); 1st Mariner Books Ed edition
(21 Aug. 2002)
 'Anatheism: Returning to God After God' (Insurrections:
Critical Studies in Religion, Politics, and Culture) Richard Kearney
Paperback – 2011 
 'Man's search for Meaning – Victor E Frankl The classic
tribute to hope from the Holocaust Paperback– 7 Feb 2008
 'The Singing Heart of the World' by John Feehan.
Creation, Evolution, and Faith Paperback – October 2, 2012
 'Into Extra Time – Living Through the Final Stages of
Cancer and Jottings Along the Way' Michael Paul Gallagher SJ
Paperback 
 'The Taste of Hidden Things' - Images on the Sufi Path
Sara Sviri The Golden Sufi Centre Publishing 1997
 'Gratitude' 2015 & 'Awakenings' 1973/1990 Oliver Sacks
Amazon Barnes & Noble Powells
 'Living Buddha Living Christ' by Thich Nhat Hanh 1996
 'Pilgrim at Tinker Creek' Annie Dillard 1998 Harper Perennial modern Classics
 'Falling Upward' A spirituality for the two halves of life Richard Rohr – 
John Wiley and Sons Ltd Aug 2012
 'The Dance of the Dissident Daughter' by Sue Monk Kidd – 2006
 'The Opal and the Pearl – Towards a Gyroscopic Ethics' Mark Patrick Hederman OSB 2016
 'New and Selected Poems' Volume One 2004 - by Mary Oliver 
 'The Choice' by Dr. Edith Eger – 2017 Simon & Shuster Inc
 'Faith and Freedom' Sr Teresa Forcades i Vila OSB
'A Marriage, Monks and a Writer's Life - Acedia and me'
Kathleen Norris 2008
'Walking on Water' by Madeleine L'Engle 1980 Convergent Books 
 'The Five Things we Cannot Change: And the Happiness We Find by Embracing Them' by David Richo 2005 Shambala Publications  
'The Story of Ruth: Twelve Moments in Every Woman's Life: Twelve Months in Every Woman's Life.' by Joan Chittister OSB Art by John August Swanson
 'The Mystical Imagination Patrick Kavanagh: A Buttonhole in Heaven' by Una Agnew SSL
'The Sparrow' by Mary Doria Russell 1997 Black Swan Publishers 
 'The Same Kind of Different as Me' by Ron Hall & Denver Moore with Lynn Vincent /Thomas Nelson Publishers
 'With the End in Mind' How to Live and Die well by Dr Kathryn Mannix 2017 Harper Collins 
 The Shattering of Loneliness by Erik Varden 2018 Bloomsbury Continuum
 'In the Shelter' by Padraig O' Tuama 2015 Hachette Books Ireland
 'The Gaze of Love' by Rev. Ruth Patterson OSB Veritas Publications 2016 
 'An Astonishing Secret' by Daniel O' Leary Columba Press 2017 
 'The Testament of Mary' by Colm Tóibín Penguin Books 2012
 'The Mystic Heart – Discovering a Universal Spirituality in the world's Religions' 
by Br. Wayne Teasdale 1999
 'The Universal Christ' – by Richard Rohr 2019
 'A Good man is hard to find and other Stories' Flannery O' Connor - 1955
 'Soil, Soul, Society a a new Spirituality for our Time' Satish Kumar
 'The Salt Path'  -  Raynor Winn 2019 -
'Waiting for God' Simone Weil -  REFLECTIONS ON THE RIGHT USE OF SCHOOL STUDIES WITH A VIEW TO THE LOVE OF GOD1  
 'The Joy of Living' Unlocking the Secret and Science of Happiness'' Eric Swanson - Yongey Mingyur Rinpoche 2009   -
Remainder of The Joy of Life  and begin a chapter if possible in 'The Gift' Dr Edith Eger 2020
'The Taste of Hidden Things - Images on the Sufi Path' - Sarah Sviri 1997
'What is beautiful in the sky - A Book about Endings and Beginnings' - Michael Harding 2020
'Thin places' Kerri Ni Dochartaigh 2021
'Happiness : A guide to Developing Life's most important Skill'  Matthieu Riccard 2003
'The Well Gardened Mind - The Restorative Power of Nature' Sue Stuart Smith 2020
'The Monk Within; Embracing a Sacred way of Life' Beverly Lanzetta 2018
Silence and Beauty: Hidden Faith Born of Suffering - Makoto Fujimura 2016
'The Eye of the Heart' - A Spiritual Journey into the Imaginal Realm Cynthia Bourgeault - 2020
'Building Intuitive Consciousness - The Inner Camino as an Existential Journey for a Rapidly Changing World' 
Jill Brierley & Sarah Hollwey 2020